BAY FISHING, TROUT AND REDFISH
Capt. Brett Phillips offers a full range of fishing guide services. Located in the Rockport/Port Aransas, Texas area, fishermen will find excellent catches to include trophy Speckled Trout, Redfish, and Flounder. Capt. Phillips has years of experience fishing Aransas Bay, South Bay, Copano Bay, San Antonio Bay, Ayres Bay, Mesquite Bay, Carlos Bay, and their environs. Specialties include boat, drift and wading for "TROPHY CLASS" fish. Capt. Brett is an artificial and live bait specialists. Wade fishing with artificial lures for trophy class Trout and Redfish is a personal favorite.
Regardless of age, gender, or skill level, Capt. Phillips will WORK HARD for a safe and enjoyable fishing experience. PERSONALIZED SERVICE and INSTRUCTION are GUARANTEED.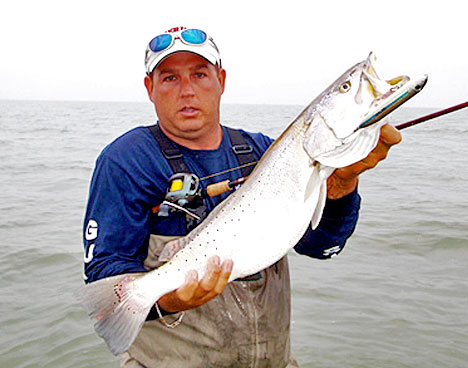 WADE FISHING FOR TROUT AND REDFISH
Wade fisherman typically come prepared with fishing rods, stringers, and a good amount of fishing tackle. We have a considerable amount of tackle and artificial lures to choose from. We are happy to provide fishing lures and rods as needed. For wade fishing, we recommend that you come prepared to enter the water with the gear that you feel most comfortable fishing with.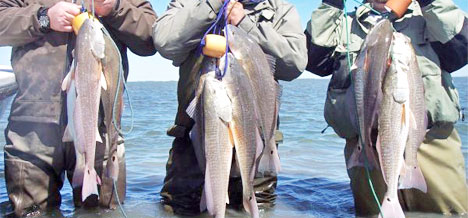 Why come to Texas for a waterfowl hunt just to spend half a day in the motel? Hunting with Capt. Brett provides a full day of outdoor enjoyment. The Captain offers full-day, guided Duck hunts and a Cast and Blast option. Duck hunts are scheduled for either morning or afternoon depending upon scouting and weather conditions. Awesome winter fishing for Redfish and Speckled Trout starts at about 10am until 2:30-3:00pm with duck hunts occurring before or after this time period.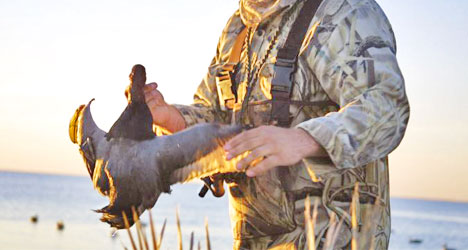 FULL TIME LICENSED GUIDE
Capt. Phillips started his career on the Texas Coast as a deck hand for the late Capt. Howard Brown (then Guide to President George Bush). Since those days, Capt. Brett Phillips has been making memories as a full-time Guide since 1994. He is a full time licensed guide CGL#908072. Professional execution of his duties afield and being a "hard worker" has always been a "trademark" for his business.
PRICES
Full Day of Fishing
$550
1-2 People
Full Day of Fishing
$600
3 People
Full Day of Fishing
$650
4 People
Full Day of Fishing
$750
5 People
CAST & BLAST COMBO
$300
Gun for 1/2 day hunt and 1/2 day fishing
Call for special rates for early season fishing and for booking multiple days.
Call for prices on larger groups needing multiple boats for the perfect company outing, bachelor party, or family reunion!