Species Hunts/Full Day Duck Hunting
The Texas Gulf Coast has become "the destination" for the discriminating waterfowler seeking trophy class ducks. Capt. Brett Phillips is not only a Full Time Guide, Skilled, and Knowledgeable, but is also willing to adjust field strategy and the duration of duck hunts for the "Trophy Seeker".
Ducks are in full detail starting around mid-December which coincides with the "second split" of duck season. Capt. Phillips is located in the wintering grounds for 90% of the world's population of Redhead ducks according to USFWS. Bull Sprig Pintail, Wigeon, Northern Shoveler, Mottled Duck, Bufflehead, and Greater and Lesser Scaup are popular among collectors as well.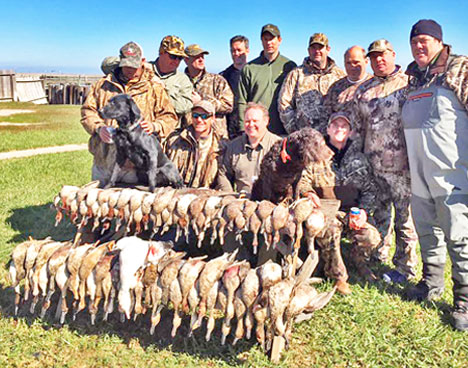 Why come to Texas for a waterfowl hunt just to spend half a day in the motel? Hunting with Capt. Brett provides a full day of outdoor enjoyment. The Captain offers full-day, guided Duck hunts and a Cast and Blast option. Duck hunts are scheduled for either morning or afternoon depending upon scouting and weather conditions. Awesome winter fishing for Redfish and Speckled Trout starts at about 10am until 2:30-3:00pm with duck hunts occurring before or after this time period.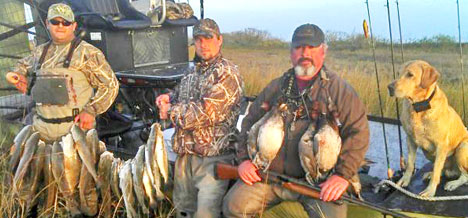 GOOSE & BAY DUCK HUNT COMBO'S
STOP DRIVING AND START HUNTING!!
Goose hunting is available on PRIVATE AND PROFESSIONALLY MANAGED FARMS. Hunt geese over extensive plantings of Rye Grass and Winter Wheat as well as other plantings and crops which sustain the birds. Morning drives range from 5 minutes to 30 minutes from our headquarters in Rockport, Texas depending upon scouting and field reports. AFTERNOON BAY DUCK HUNTING is similarly located in proximity to Rockport. After the morning goose hunt, we double back to Rockport for lunch and to "change gear" for the afternoon duck hunt. The boat launch is a mere 15-minute drive from Rockport. In some cases, we launch right in Rockport so "stop driving and start hunting".
Let Capt. Phillips introduce you to TEXAS WIDESPREAD hunting! Texas goose hunting is a "numbers game". Goose hunting involves large sets of the highest quality windsocks, silhouettes, shells, kites, and full body decoys. This allows us to DECOY the big flocks of SNOW, ROSS, SPECKLEBELLY, AND CANADA GEESE for POINT BLANK style shooting.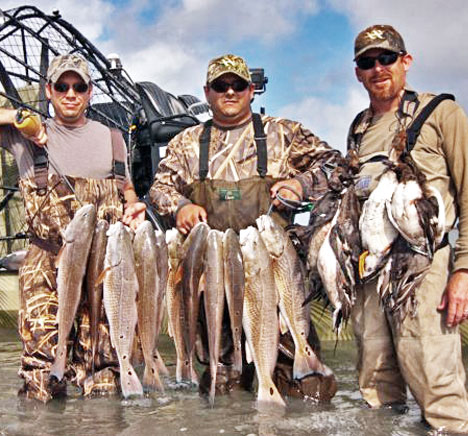 GEAR UP FOR GOOSE AND DUCK HUNTING
Texas weather is unpredictable to the point that it has ruined many careers of NOAA Weather Radio personnel. Simply put, we recommend bringing clothing and gear suitable to maintaining your desired level of comfort in weather ranging from "Hot and Humid" to "Cold and Clammy", all in the same hunt. Plan on temperatures ranging from warmer and colder than you think possible.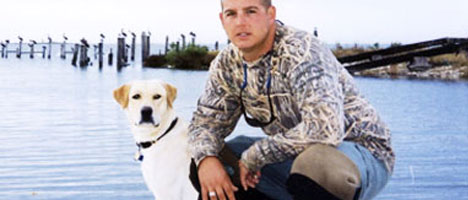 HUNTER'S CHECKLIST
The following is a thorough list of what each hunter should bring to ensure enjoyment of the outdoors. Bold items are essential.
Shotguns - At least two (28/20/12 gauge recommended) Steel Shot Shells
Ducks (2 3/4" - 3" #2's, 4's, or 6's)
Geese (2 3/4" - 3" BB's, BBB,s, T)
Chest Waders/Hip Boots,
Mosquito spray,
Camo Face net/mask
Camo Face net/mask,
Rain Gear/Parka/Jacket
Gun cleaning kit,
Camo clothing (brown/green)
Camera,
Ice chests
Texas hunting license/voucher (Call 1-800-TX-LIC-4U),
Federal Waterfowl Stamp
CAST & BLAST COMBO
$300
3 People
1 Gun for
1/2 day hunt
and 1/2 day fishing
Call for special rates for early season fishing and for booking multiple days.
Call for prices on larger groups needing multiple boats for the perfect company outing, bachelor party, or family reunion!
Duck Hunting
$200
1 gun for an afternoon or morning hunt